videos:

Paint Romanian
Made in Italy
Precarious Lives
In Transit
2 or 3 Things about Activism
Reconstruction
Letter from Moldova
Red Tours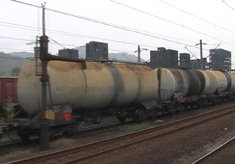 In Transit
30 min. 2008.

In Transit is a diary of a journey through space and time, made up of subjective impressions of the present and childhood memories of the past. While traveling across Romania in the year of its EU accession, the monologue reflects on the meaning of transition, the re-writing of history and the relation between images and memory.
cc
"Postcommunism is not a new stage of history, it is a continuation of the cold war. In a similar way, it demands a categorical rejection of communism, a purely emotional condemnation, without analysis, without reflection. What has changed is that the West's clichés about the Eastern bloc are now internalized by the other side, taking the place of remembering."
c
"I left Romania when I was 9, long before the revolution. My parents were among those uncomfortable dissidents that were allowed to emigrate ... After moving to America, my grandmother sent us a package with family pictures, but it was mysteriously lost, in transit. A tacit declaration by the Romanian state: now that you have chosen exile, we will erase your identity ... Your past no longer exists. The sum of these erasures is what we call history."
c
Presentations: Mucsarnok (Budapest), Transitland Europa (Berlin, Trieste, Budapest), Hotshoe Gallery (London), 3rd Moscow Biennale (Moscow), Rotor (Graz), Nassauischer Kunstverein (Wiesbaden), HDLU Museum (Zagreb), Kontekst Gallery (Belgrade), Overgaden (Copenhagen), Transmediale 09 (Berlin), Tampere Short Film Festival (Finland), Canarias MediaFest (Las Palmas), Belsat TV (Poland).