videos:

Paint Romanian
Made in Italy
Precarious Lives
In Transit
2 or 3 Things about Activism
Reconstruction
Letter from Moldova
Red Tours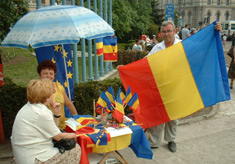 Paint Romanian
11 min. 2004.

A rhythmic montage of hundreds of photographs of tricolor objects reflecting nationalist obsessions in Cluj during the rule of the extreme right party. The video meditates on the dialectic between subjective desire and an ideologically charged urban space.

"The word 'territory' comes from 'terrere' - the capacity of a ruler to inspire fear by threat of arrest and removal ... It's not a coincidence that the word 'terrorism' was born on the eve of the French Revolution ... Terror is not external to the nation, for Robespierre it is the logical consequence of the 'love of country'" (Joanne Richardson).

"Cluj is the image of a city that has been besieged, piece by piece. It's too simple to point your finger at the conqueror and invoke a national pathology for explaining everything like a clever joke. It's much more difficult to recognize the other actor in this play: we are the ones who have been conquered and colonized." (Mihaela Frunza)
v
Paint Romanian was a collaboration between D Media (Joanne Richardson & Diana Balog) and teenagers from Cluj (Eniko Nagy & Gabriela Torcatoru). Photos are from the archive of the art group "Duo Van der Mixt."
c
Presentations: Nassauischer Kunstverein (Wiesbaden), Kunstraum Kreuzberg Bethanien (Berlin), 10th Istanbul Biennale (Istanbul), U-TURN Quadrennial of Contemporary Art (Copenhagen), NGBK (Berlin), Saison Video (Lille), Villa du Parc (Geneva), Arte Fiera (Bologna), Dynamo Gallery (Budapest).