videos:

Paint Romanian
Made in Italy
Precarious Lives
In Transit
2 or 3 Things about Activism
Reconstruction
Letter from Moldova
Red Tours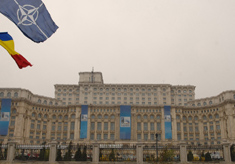 Reconstruction: anti-NATO days
56 min. 2009.

Brechtian documentary about the brutal repression of the anti-NATO events in Bucharest in 2008. The reconstruction was filmed during a 4 day workshop, in which 10 protagonists became simultaneously actors, audience and directors. It constituted a collective writing of history, as participants analyzed their memories and wrote the script together. In the end, there was no unique reconstruction - the same moment of history is re-told through 3 perspectives: the 'objective,' the subjective and the collective.
c
"I was shocked by the atmosphere of the city ... Flags everywhere, Romanian flags, NATO flags, flags of other NATO countries, and the streets deserted, empty of people, empty of cars. It was as if a theater play was being staged. It reminded me of Gorbachev's last visit to Romania in 1987, when people weren't allowed to stroll casually on the streets ..." (Razvan, Bucharest)
v
"The fear of being followed and spied on continued for many months. Those things we wanted to keep secret, we never said out loud. We whispered to each other even when we were alone in the room." (Rodica, Timisoara)
c
Video by Joanne RIchardson & Nadia Len. A collaboration between D Media, Anti-NATO Initiative 2008 and h.arta.
c
Presentations: Mucsarnok (Budapest), History Forum 1989-2009, German Historical Museum (Berlin), Rex (Belgrade), Tranzit House (Cluj), Red House (Sofia), 2009 anti-NATO Camp (Strasbourg).