videos:

Paint Romanian
Made in Italy
Precarious Lives
In Transit
2 or 3 Things about Activism
Reconstruction
Letter from Moldova
Red Tours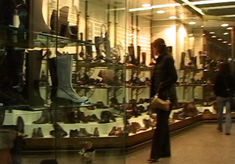 Made in Italy
26 min. 2006.

Made in Italy traces the connections between 16,000 Italian companies delocalizing to Romania and 2 million Romanian workers migrating to Italy. Rather than tell a story in a unified voice, the video presents a collision of many contradictory perspectives: Italian businessmen, trade unions, local workers and Romanian migrants in Italy. The audience has to piece together their own conclusions.

"There wasn't any transition: there was a crash. The system fell down, it imploded. The factories weren't transformed, they were destroyed: people took the doors, windows and parts of machines. Everything collapsed and the first reaction was migration. Everyone wanted to escape." (Poli, Italian Cultural Institute, Bucharest).
c
"The dislocation of people is a response to economic crises produced by delocalization and the subsumption of periphery countries into the global market. But the flight from economic misery is also a desire to find the consumerist utopia ... Migration is not an exodus from global capitalism, but a flight to its center. (voiceover)

A collaboration between Candida TV (Francesca Bria, Tora Krogh, Cristina Petrucci) and D Media (Joanne Richardson).

Presentations: Open Space (Vienna), Kunstraum Bethanien (Berlin), NGBK (Berlin), 3rd Bucharest Biennale (Bucharest), Globale Festival 08 (Berlin), Cleotronica Festival/ACAF (Alexandria), International Women's Film Festival (Barcelona), Tek Festival (Rome).